TURKISH VAN CAT CLUB
Eleventh Championship Show - 5th October 2013
at Bracknell Sports & Leisure Centre, Bracknell, Berkshire
This years saw our eleventh Championship Show, again held at Bracknell Leisure Centre. Turnout this year was disappointing, with just 8 Turkish Van/Vankedisi cats entered, matched by the 8 non-ped entries. Even so, we had some quality cats on show, including a Tica Supreme Grand Champion, and a Grand Premier in the making.
As usual the Club had a table, and hosted its popular tombola with a huge variety of prizes to be won. Takings on the day topped £100, which was a great result, so thank you to all the Committee for their help on making this, and the day in general, a fun and exciting one!
So, on to the results! Actually we were a little confused when the Best-in Show was being judged since we only saw two cats, both of which were amber-eyed Vankedisi cats. However it soon became clear that it was a whitewash, with the Vankedisi cats taking the Best Assessment class (obviously), but also taking the overall Best in Show Adult & Neuter places (no kittens were on show this year).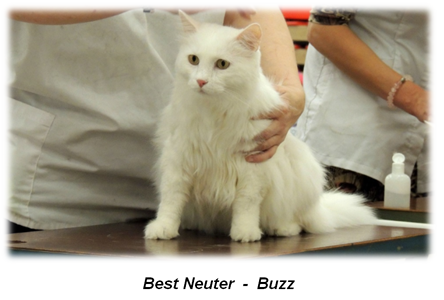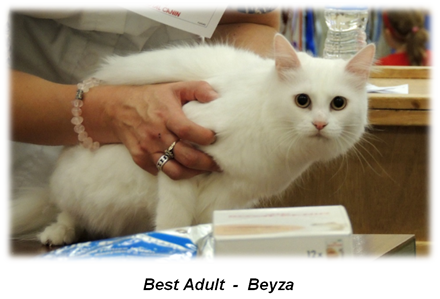 So many congratulations to Buzz (Adsetl Beyaz Aslam) and Beyza (Adzwolo Lady Inwhite) who were the white stars of the show, with Buzz being the overall Best in Show for 2013! Congratulations also to Teddy, the Best in Show household pet.
Thanks to everyone who helped out on the day, and to everyone who stopped by to say hello and support our club. Thanks also to our Show Manager, Carol Pike, and her team.