TURKISH VAN CAT CLUB
Tenth Championship Show - 6th October 2012
at Bracknell Sports & Leisure Centre, Bracknell, Berkshire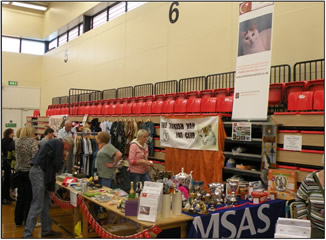 The 10th Turkish Van Cat Club Championship Show was held at Bracknell Leisure Centre on Saturday 6th October 2012. As usual, the Club had a table at the show with a tombola and a raffle, between which we raised a grand total of £73.07. We had many visitors, some old faces and some new, and we thank everyone who dropped by to say hello, and who helped to make the day such a fun one.
The show entry was better than last year with a total of 21 cats entered. Of these, 12 were Turkish Vans or Vankedisi, 1 Ragamuffin (assessment), and 8 household pets. Even so, it was still disappointing not to see all of our breeders represented on the show benches, but this was to some degree compensated by others bringing up to 4 cats, to make the day such a success.
Not for the first time we had no neuter Turks present (although one was entered but absent on the day), however we did have one neuter Ragamuffin entered into an assessment class. We also had one exhibition pen, these being for cats not competing in classes, but who are there just to show themselves off.
Best-in-Show winner from 2011 and 2010 was again in attendance, but this year the Best Adult was instead awarded to Vanguards Zarafet-Kedi, an odd-eyed auburn Van lady owned and bred by Karen Guidera. The kitten class was dominated by Kathy McLeod & Aimee McLeod-Sale's three litter-mates, of which their odd-eyed Vankedisi boy Kazdee Kipluss took Best Kitten. Unusually, the Best Neuter was awarded to a different breed, since no Turks were present, and therefore the Ragamuffin cat Filensio Second In Command won by default. The last podium place went to the Best Assessment cat, which was awarded to Mr & Mrs Baker's Adelflo Cookies N'Cream, a blue-eyed Vankedisi girl.
And so to the judging of the overall winner, refereed by Mr Keith Scruton. After examining all the above cats he was able to announce his overall Best-in-Show 2012 as Vanguards Zarafet-Kedi. Congratulations to Karen, and to all our winners!